Much has been spoken by the digital industry about OTT (Over the Top Content), but lacked a simple understanding of what exactly the OTT is all about?
This situation has resulted in due to a lack of comprehensive knowledge of the overall evolutionary process, which is why most of the firms are failing to develop a consolidated and successful framework for the OTT platform. This article avails you with this knowledge and also equips you with relevant market analysis.
Let's get started!
Firstly, how did OTT evolve?
Media and Entertainment are two inseparable entities of technology that are driving the world. The digitization of the video industry has evidenced impulsive growth in terms of video usage and revenue. The media and entertainment market value is estimated to be $1.81 trillion and is expected to touch $2.14 trillion by 2020.
Furthermore, with a precipitous increase in the number of internet users (which is close to 3.5 billion), online video channels observed a momentous business. In addition to this, the digital video industry was stirred with 2.08 billion (as of 2016) smartphone users and is expected to increase to 2.65 billion by 2019. As per the marketer report, in the overall video consumption, the smartphone-based video consumption amounts to 39% and tablet amounts to 7%. This resulted in a situation where video traffic in the overall internet usage during 2014-2016 went from 64% to 80%.
This greater shift of viewers from the traditional TV networks to the internet, where VOD and live streaming services gained substantial momentum, posed an inordinate challenge for the TV network service providers to evolve and catch up the demand. This inclusive state of affairs has provided a prodigious landscape for the markets, advertisers and agencies to explore this vast online viewer's congregation and excerpt greater revenues. The prerequisite for a framework that facilitates the publishing of Omni-content resulted in the evolution of OTT Platform.
This technological marvel embedded in OTT opens up a new market scope by surpassing all its parallels in terms of media production and broadcasting mediums and thereby creating greater scope for enterprises to raise themselves better in this technological breakthrough and exploit the market conditions.
OTT facilitates enterprises to accommodate all forms of contents within a single internet common platform/framework that is devoid of the involvement of multiple-system operator in the control or distribution of the content. It also enables consumers to access content on this framework over all types of devices connected to the internet.
"The advent of OTT players, both domestic and international, is providing consumers with multiple choices around content consumption. We are seeing a shift in consumer's attitude from content ownership to having easy access to a vast library at any time and place."
– Shridhar Subramaniam, President India and the Middle East, Sony Music Entertainment Inc.
Evolution Timeline: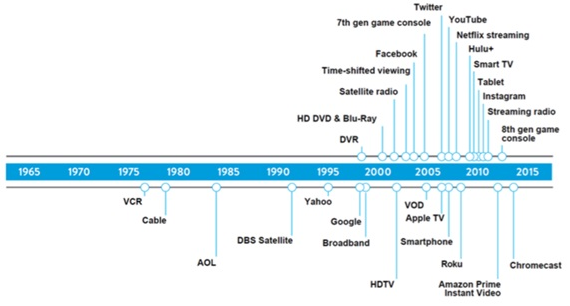 Source: http://www.nielsen.com/us/en/insights/reports/2014/the-total-audience-report.html
Strategic Issues that Catalyzed the Evolutionary Process of OTT: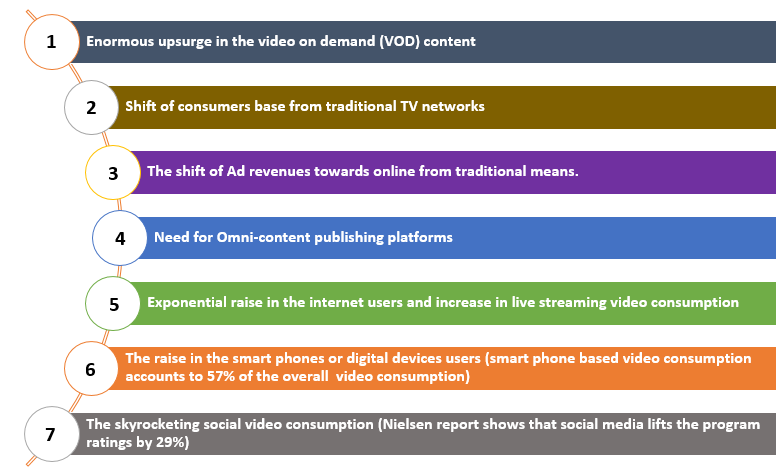 The evolution of an OTT platform has raised beyond leaps and bounds wherein, it addressed the major intricacies that posed to be challenging and resulting in as a great boon to the media and broadcasting industry. The picture depicted below lists our maturity levels OTT delivers with respect to video services:
The digitization has provided strategic support to the TV industry in a content generation, production, and analytic aspects. Above all, the increase in penetration of internet services and data speeds has exposed the viewers with vast and varied content. This resulted in a demand for video on demand services (VOD) to the upsurge. The traditional TV infrastructure hasn't been ready and struggling hard to match the growing demand for content.
This situation necessitated the emergence of new content-driven revenue models to be sorted out, which could provide greater scope for the TV industry to push much beyond the viewership and revenue projections. In this context, the only solution TV industry to look out for is the OTT platform, which is a very successful model proved beyond doubt in several western countries and large corporates are looking out to tap this future market.
TV's Loss of Viewers Is Our Gain
"At a time when TV is losing audiences, YouTube is growing in every region, on every screen. A survey conducted for Variety in July 2015 that found among U.S. teens, eight of the top 10 most influential celebs are YouTube stars (up from six of top 10 in 2014). She also said Interpublic Group reached an agreement with the service to shift $250 million in ad spending from TV to YouTube. " —Susan Wojcicki, CEO, YouTube.
OTT market analysis
The impulsive growth of smartphone and internet users has fuelled the OTT markets. Apart from this, an increase in social networking users appeared to be a catalyzing factor in increasing the demand for OTT platforms. With the growing need for the Omni-content platform the market scope of OTT global markets has been on full raise, wherein, the year 2015 market value is estimated to be USD 28.04 Billion. This swing is expected to shoot up much higher by 2020 and revenues are expected to touch USD 62.03 Billion 17.2% CAGR.
To upsurge growth of the television industry to prodigious elevations, the demand for OTT platform has grown to a loftier scale in India and around the world. To match up the demand, the biggest roadblock is a lack of infrastructure and frameworks to float these services. India is ranked 128 in terms of internet speeds, comes as a big hurdle to explore the OTT capabilities.
"In this OTT on-demand content business, while overall service offering package including user interface, accessibility, etc. definitely play its role in creating an edge over competitors, content remains the key. In coming times, with rapid 3G adoption and 4G on the anvil, we will see more and more original content produced for online consumption especially for second and third screens." – G D Singh, CEO & Director, DigiVive,
The latest GOI initiative, Digital India, looks very promising and positive in terms of assuring the availing stringent digital infrastructure, which would be a great foundation for the OTT platforms to be floated across and revolutionize the vast digital media market scope and generate massive revenues. Above all, it would be a great challenge for the aspiring OTT players to come up with flexible and robust frameworks, architectures and models to catch up the need. Though many leading corporate giants are making sincere efforts, the efforts are not up to the mark to catch the need of the hour.
Factors fuelling the market scope of OTT
Video traffic in overall internet usage during 2014-2016 went from 64% to 80%.
Revenue in the "Digital Video" segment amounts to MUSD 213.8 in 2016.
Video Advertising industry amounts to USD 99.9 million in 2016.

The revenue projections of global digital video ad revenues are expected to reach 29.04 billion in 2020.

With 350 million internet users and 220 million smartphone users has provided enough scope for the digital video
industry and thereby facilitating much higher scope for OTT players
The market scope of Media & entertainment industry of India estimated to be 2,260 billion

Vuclip Survey states that video consumption through smartphones has a share of 55%

In 2015, mobile advertising spends were estimated to be at INR 9 billion, is now expected to grow at a CAGR of 62.5 percent to reach INR 102.1 billion by 2020. -FICCI-KPMG Report 2016

The mobile-based advertising revenues are estimated close to Rs.9 billion and by 2020 it is expected to reach Rs.102.1 billion

Facebook's mobile advertising revenue accounts for 77 percent of the social network's total advertising revenue

The market's largest segment is the segment "Video Streaming (SVoD)" with a market volume of MUSD 105.8 in 2016.
Reasons for increasing demand of OTT market:
A survey was conducted by LEK consulting to research the reasons for the increasing demand for the OTT platform. Their research results are diagrammatically presented in the below chart:
Challenges limiting to explore the OTT market scope
The internet speeds and the infrastructure to provide high-speed data streaming have been the biggest challenge for Indian Digital video industry.

The growing digital piracy has been a factor of worry for many subscriptions based digital video service providers.

Lack of Ecosystem to capitalize the existing market scope for digital video industry

The huge costs incurred in the digitalization of the traditional systems.

To provide highly sophisticated digital services at cheaper rates, where it is affordable to all the sections of people, has been one of the biggest challenges.

Development of Digitalized workflows to overcome the risks that are popping up during the development of the framework.
I hope the detailed evolutionary process and market analysis presented above has availed you with a comprehensive understanding.